Meet Cute

April 3rd - May 19th
Play by Erin Norah Thompson produced by Roseneath Theatre. Directed by Jill Harper and Aaron Willis; sounds and music compiled by Courtney Pyke; set, costumes and props designed by Anna Treusch; stage management by Dana Paul. Meet Cute is a story about Jane and John who meet at a bus stop — could there be romance? The show explores their conversation in three different ways using the same text. One scene. Two actors. Three possibilities.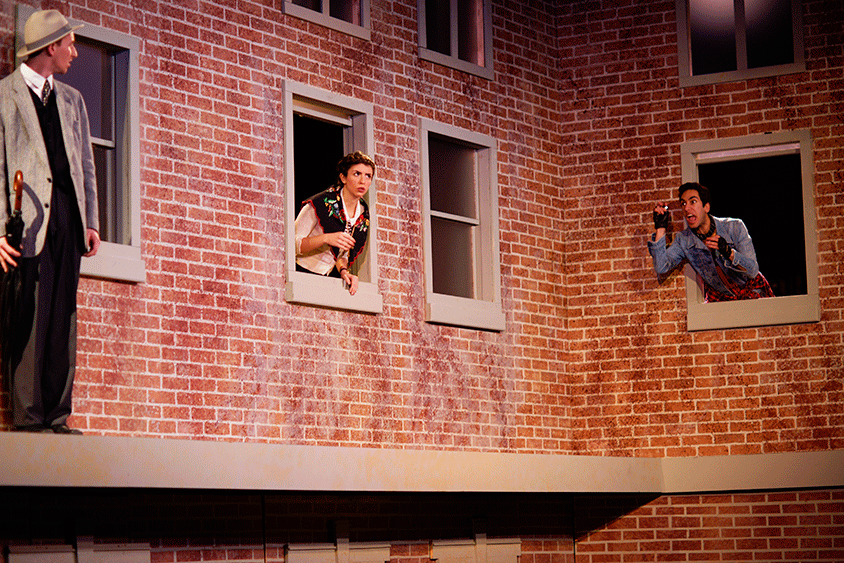 7 Stories

March 3rd - 11th
Play by Morris Panych produced by Hart House Theatre. Directed by Rebecca Ballarin; set design by Jenna McCutchen; lighting design by Melissa Joakim; costume design by Daina Valoulis; sound design by Miquelon Rodriguez; stage management by Amanda Cho; assistant director Mirka Loiselle. Photography by Scott Gorman. In 7 Stories a man stands on a seventh-storey building ledge and contemplates suicide. Before he can get too far, he is confronted by the self-absorbed (and oftentimes absurd) people who live inside the building.
Screen Shot 2017-04-23 at 8.46.03 PM
Screen Shot 2017-04-23 at 8.47.26 PM
Screen Shot 2017-04-23 at 8.46.03 PM
See No Evil Season 3 Episode 5: On Her Watch
See Demo for more.
Web of Lies Season 4 Episode 1: People You May Know
See Demo for more.
TOUGH! August 16th - 20th
Playing one of the Tina's in the ENSEMBLE Canadian Youth Theatre/ Théâtre Jeunesse Canadien adaptation of TOUGH! by George F. Walker as part of a double bill. Directed by Ken Gass. Assistant directed by Sophie Munden. Set and costume design by Orly Zebak. Sound by Frank Incer. Lighting and stage management by Joey Condello and Elyse Waugh. Produced by Liz Der. ENSEMBLE is a training initiative supported by Canadian Rep Theatre. Photos by Liz Der.
Common Ground

July 1st, 3rd-4th, 6th, 7th-10th
Written and directed by Susan Magerman and Michelle Brightman. Four strangers as diverse as Toronto itself held hostage with only each other for survival. A dramatic, engaging and suspenseful character-driven play. The intensity of the situation triggers funny, explosive, thoughtful and heart-warming interactions that will speak to people everywhere. My first production at the Toronto Fringe Festival!
Pericles, Prince of Tyre

MARCH 1st - 5th, 8th- 12th
Playing the role of Dionyza and Chorus in the Drama Centre's Mainstage production directed by Kate Lynch; showcasing the graduating class as we dive into the Shakespearean text through Pericles' adventures, joys and misfortunes. Stage management by Elyse Waugh. Special thanks to Caitlin Thompson & Lisa Aikman for being our go-to experts. Photos by Marie Trotter.
Antigonick DRAMA CENTRE December 2015
Playing the title role of Antigone in a modern translation of Sophocles' Greek Tragedy
Antigone

by Anne Carson; directed by Dorcas Chiu, set design & projections by Julia Howman, costumes by Deborah Lim, stage management by Eun-ji Lee. Photos by Gokhan Solmaz & Deborah Lim.
Swim to the Moon UC FOLLIES February 2015
A one-woman show directed by Jane Smythe and written by Deborah Lim, set, costumes & projections by Julia Howman, stage management by Marie Trotter. Presented at the 2015 UofT Drama Festival, received the I.A.T.S.E. Award for Technical Achievement and The Heart on your Sleeve Award of Merit. Photos by Julia Howman.
paperSERIES DRAMA CENTRE December 2014
Play by David Yee, directed by Deborah Lim, set & costumes by Jane Smythe, stage management by Joey Condello. Playing the role of Mutt, an orphaned 8 year-old girl who brings her parents to life through puppets, love, and her imagination. A beautiful play with 6 incredibly compelling stories. Photos by Jane Smythe.